Paragraphs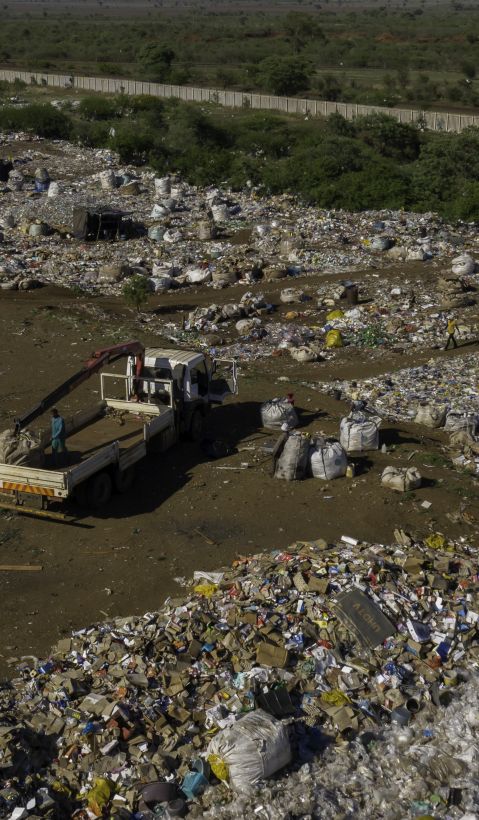 Kicker (optional)
Circular Economy Catalyst
Headline (optional)
Sectors
Content
Housing & Infrastructure
Aggravated by increasing urbanization rates, physical infrastructure such as buildings, transportation networks or waste disposal systems, increasingly contributes to greenhouse gas emissions. Circular Economy approaches offer innovative solutions to help to carb the emissions of Housing & Infrastructure as well as to rethink how our physical infrastructure is designed, constructed and disposed of by introducing e.g. alternatives to resource-intensive construction materials, the sharing of essential consumer products and services or the efficient collecting and processing of the waste our physical infrastructure produces.    
Water, Food & Energy
Driven by rising population numbers, globalization and changing diets the demand for water, food and energy is steadily rising. As more and more people gain access to these supply systems however, the depletion of finite resources through agriculture or fossil fuels is increasingly putting a strain on the environment and represents a potential source of conflict. Circular Economy approaches aim at the conservation of critical resources through e.g. their substitution with renewable inputs, environmentally-friendly packaging or the creation of new value from agricultural byproducts and waste.    
Electronics & ICT
Whilst technological advancements and the digital devices which enable them are a major driver of innovative solutions to facilitate the transition to a Circular Economy, the vast majority of Electronics & ICT products contain hazardous materials and are designed to be replaced by newer and more capable prodcuts after a short period of time. Circular Economy approaches provide viable solutions to the safe processing of electronic waste, the design of more durable and long-lasting products and enable the use of digital solutions to tackle environmental, social and economic challenges.   
Textiles & Handcraft
Today's fashion industry is largely embedded in a linear make-take-waste logic with manufacturers producing in high quantities and low quality and consumers using textiles and handcrafts and substituting them for new products within a brief period of time. The short life span of the sector's products results in large amounts of waste in landfills and low rates of resource efficiency. Applying a Circular Economy lens to the sector and rethinking how value is created and retained, products will be designed to last longer, designed to be reused as well as manufactured using more sustainable and less resource-intensive inputs.