Paragraphs
Kicker (optional)
Ecosystem Building
Headline (optional)
Cultivating business support and financing for circular economy enterprises
Image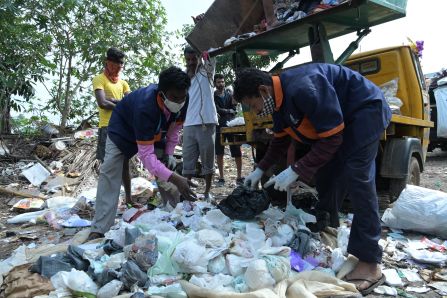 Content
Our Ecosystem Building activities build networks of enterprise support actors - including business advisors and financers. We provide platforms for dialogue between local, national and international stakeholders and work to improve the environment in which circular economy enterprises grow.
Kicker (optional)
Fortifying a network of Business Advisors
Headline (optional)
Business Development Service+
Content
Our Business Development Service+ (BDS+) programme enhances the capacities of Business Advisors with the skills and tools required to improve their support to enterprises in the circular economy. Participants in our BDS+ programmes are leading business consultants, mentors, incubators and accelerators in their regions.
What does the BDS+ programme include?
Through our Training of Trainers programme, we offer BDS+ Advisors access to SEED-developed toolkits, case studies and further valuable insights into enterprises in the circular economy. These resources support leading and future providers of enterprise support to meet the unique development needs of enterprises with a strong environmental and social focus. The tools and insights have been developed and refined over our more than fifteen years of supporting enterprises.
Text (optional)
Our BDS+ Training of Trainers participants receive:
Fact Items
Text (optional)
Printed and digital access to Toolkits to guide their work with eco-inclusive enterprises.
Headline
ECO-INCLUSIVE BUSINESS MODELS
Text (optional)
Discover eco-inclusive business typology for tailored needs analysis and design of support.
Headline
NETWORK BUILDING
Text (optional)
Engage in peer-to-peer networking and exchange with experienced BDS+ Advisors.
Headline
INTERACTIVE CASE STUDIES
Text (optional)
Employ insights from video and written case studies on successful eco-inclusive enterprises.
Headline
COMMUNITY OF PRACTICE
Text (optional)
Create BDS+ online platform profile and participate in events.
Headline
FACILITATION PRACTICE
Text (optional)
Gain extensive facilitation practice, insights and reflection on participant-oriented training design.
Kicker (optional)
Enabling targeted circular economy finance
Headline (optional)
Finance
Content
Our Finance activities bring together financers, enterprise support organisations, and enterprises to tackle the challenge of access to finance for enterprises in the circular economy. Through exchange on common enterprise challenges, avenues for targeted financing, and financial facilitation, the programme contributes to improved financial access for circular economy enterprises at different stages in their growth journey.
The Practitioner Labs for Circular Economy Finance
The Practitioner Labs for Circular Economy Finance engage financial institutions and other climate finance practitioners to advise on and design innovative climate finance products which are catered specifically to small and growing enterprises in the circular economy. Our extensive experience supporting entrepreneurs through our multiple Direct Enterprise Support and Ecosystem Building programmes has taught us the importance of improving access to targeted financing solutions in order to multiply opportunities for enterprises to scale their environmental, social and economic impacts.
The Practitioner Labs employ an interactive and participatory process that leverages design thinking processes to co-create solutions to common challenges enterprises face when looking to access finance. As an outcome, participants leave with prototype solutions that are ready to pilot, as well as an expanded network for implementation and pipeline for their new financial products and mechanisms.
Direct Financial Support to Enterprises
As part of the direct enterprise support programmes, limited grants are available to participants of the Starter programme as well as Circular Economy Award winners to invest in the implementation of their start-up or growth plans. Applications for the grants will be made open to participants of the programme during designated application windows.