Around 90 entrepreneurs trained by the CEC Replicator in 2022
Paragraphs
Content
Over the course of July and September 2022, the Circular Economy Catalyst kicked off its first round of enterprise support activities in Kenya and India by implementing two early ideation-stage workshops, the CEC Replicators, in each country.
The CEC Replicator programme targets aspiring and early-stage entrepreneurs, who often lack access to information about proven circular business models. The approach of replicating proven business models leverages successful ideas, methods and processes. Partnerships are a key success factor of replication. Therefore, CEC facilitates collaboration between the "Originators" of proven business models (i.e. successful circular entrepreneurs) with "Adopters" (aspiring entrepreneurs). The CEC workbooks feature a total of 14 originators active within the four focus sectors. This includes 3 Indian and 3 Kenyan originators whose representatives were invited to participate in the workshops in person to share their practical experiences with the participants. During the workshop, participants were thus able to build new partnerships among each other as well as with the originators.
Image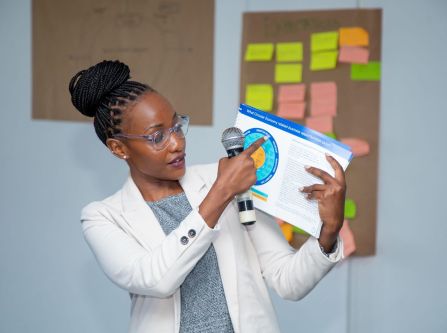 Content
Across the four workshop cities in Bangalore, Jaipur, Nairobi and Mombasa, 88 entrepreneurs attended and successfully completed the trainings in 2022. Of those 88 participants 56% are female entrepreneurs and 55% are youth entrepreneurs (aged between 18-35 years). A testimony of how the workshop was perceived by the participants can be found in this related article.
For the practical implementation of the workshops, CEC actively engaged with the local Business Development Services (BDS) ecosystem in both Kenya and India. Local enterprise support advisors who had all been trained on the methodology of the CEC incubation programmes in June 2022, successfully facilitated the trainings. Loopwork Ltd and Crosswise Works facilitated the workshops in Kenya whilst EKonnect Knowledge Foundation together with The Energy Resource Institute (TERI) and Idobro Impact Solutions realised the trainings in India.  
Image
Content
Replication is not about copying and pasting exact replicates of business models but rather constitutes a process of adapting the most relevant business elements to the adopter's local context (for example responding to demands in local markets, regulatory frameworks, the availability of resources and potential partner organisations, etc.). Business model elements refer to approaches of how value and sustainable impact (e.g. through products or services) is created for customers and communities. This includes, for example, marketing or distributions strategies, a specific partnership approach or model, the value chain set up, a specific customer retention strategy, etc.
The objective of the CEC Replicator is to share these proven ideas with aspiring entrepreneurs as well as to contextualise the concept of circular economy and help participants to identify circular business opportunities, thereby accelerating and stimulating their ideation process. Proven circular economy business models are showcased in four sector-specific workbooks and complemented by tools to support aspiring entrepreneurs to adapt and contextualize these ideas in their local markets. The CEC focus sectors are Textiles & Handicraft; Housing & Infrastructure; Water, Food & Energy and Electronics & ICT.
Image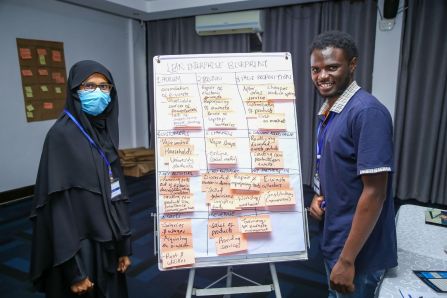 Content
After having completed the training, selected participants were then able to continue their enterprise journey by attending the second CEC incubation programme, the CEC Starter. In 2023, the CEC Replicator Programme will continue with four more trainings, two in each of the two countries and is set to target another 100 participants and build on the experiences and lessons learned of 2022.