Paragraphs
Headline (optional)
MiniMines Cleantech Solutions
Subline (optional)
2023 Circular Economy Awards Runner-up
Content
MiniMines creates a closed-loop system by efficiently recovering critical materials from lithium-ion batteries, including Lithium, Cobalt, Nickel, and Copper, with 96% efficiency and above 99% purity. This reduces waste, conserves resources, and minimises the carbon footprint associated with battery production, contributing to a sustainable circular economy.
MiniMines offers collection services for end-of-life lithium-ion batteries and utilises their Hybrid Hydrometallurgical Method TM to recover valuable metals. Their innovative process applies to all types of batteries and generates no liquid, solid, or gaseous discharge.
Their target customers include battery manufacturers, users and raw material buyers in domestic and international markets. Additionally, MiniMines generates revenue through recycling services, commodity product sales, and carbon credits from carbon offsetting.
Content
Social impact
Reducing environmental pollution, harmful to people, by processing more than 1,50,000 batteries (2023)

Engaging more than 500 individuals through awareness programs and seminars (2023)
Environmental impact
Reducing greenhouse gas emissions associated with the recycling process
Increasing the percentage of Lithium-ion batteries that are recycled

Conserving valuable resources while catering to national Lithium and Cobalt demand through recycling
Economic impact
Achieving cost savings through the recovery of valuable materials

Creating 50 job opportunities for people in the local community (2023)
Media Gallery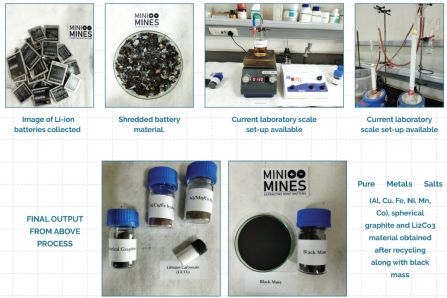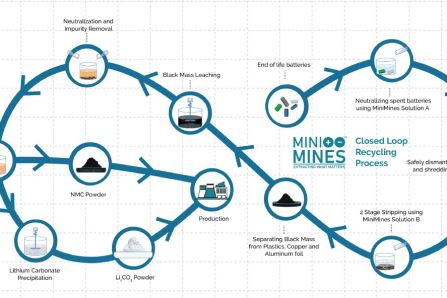 Content
"

Our proprietary technology and processes recover up to 96% of all materials (>99% purity) found in lithium-ion batteries at 1/10th carbon footprint."
Arvind Bhardwaj
Headline (optional)
Collaborate
Contact Items
Headline (optional)
Arvind Bhardwaj
Subline (optional)
www.m-mines.com/about-us
Email
arvind

m-mines.com