Paragraphs
Headline (optional)
M-taka
Subline (optional)
2023 Circular Economy Awards Runner-up
Content
Housing & Infrastructure, Kenya
Content
M-taka is a tech-integrated waste management social enterprise that addresses the plastic waste challenge through education, collection, and increased recycling practices. Their innovative approach combines social incentives, community engagement, and data analytics to promote behaviour change and sustainable waste management practices.
M-taka transforms waste into a valuable resource through comprehensive waste management and recycling practices. By increasing recovery and recycling of plastic waste, preventing the entry of virgin plastic, reducing landfill and water pollution, and creating a more sustainable and circular approach to the plastic pollution challenge.
M-taka's target market includes waste generators, end-of-chain recyclers, and organisations seeking sustainable waste management solutions.
Content
Social impact
Educating over 1,140 women and

4

60 men at household and community level and training over 75 women as recycling agents (2023)

Offering training on waste management and recycling
Environmental impact
Increasing waste segregation at source to 57% and collection of plastic waste to 31% (2023)

Collecting over 40 tonnes of plastic waste for recycling (2023)

Preventing 44 metric tons of CO2e being emitted into the atmosphere (2023)
Economic impact
Increasing income for women and girls in the waste sector by 54% through the recovery of recyclables (2023)

Providing employment to over 30 people in the waste management and recycling

sector (2023)
Media Gallery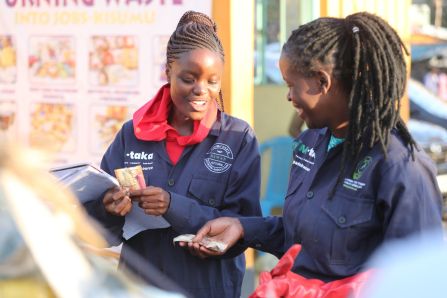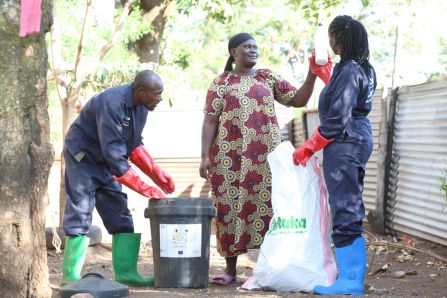 Content
"By harnessing technology, social incentives, and a shift in behaviour, we're fostering sustainable circular economy communities for a greener future."
"Our goal is to transform perceptions of waste, improve livelihoods, and contribute to a sustainable and inclusive future."
Benson Abila
Headline (optional)
Collaborate
Contact Items
Headline (optional)
Benson Abila
Subline (optional)
www.m-taka.co.ke
Email
anjejoabila

gmail.com